Horseshoe Lake - Merrifield, MN
Drone Photos courtesy of Justin Peterson
Horseshoe Lake - Merrifield, MN
Drone Photos courtesy of Justin Peterson
Horseshoe Lake - Merrifield, MN
Drone Photos courtesy of Justin Peterson
Horseshoe Lake - Merrifield, MN
We had a wonderful turnout for the annual kids fishing contest.
Headlines / News on Horseshoe Lake, Merrifield MN:
FYI-recap of zebra mussels in Horseshoe Lake
One of the county inspectors found a Zebra Mussel on a weed that was attached to a boat leaving the Horseshoe landing. The DNR inspected our lake and he found a Zebra Mussel on the east basin attached to a clam, (they did not find any near the landing) , found another just on the west side of the channel in about 5 feet of water and also on the west side of the west basin attached to a golf ball. DNR said they looked to be 3-5 years old! They also said they will be installing signs at the boat landing stating the lake has invasive species. They mentioned that it is difficult for Zebra Mussels to thrive in our lake because of the lack of substrate such as rocks. Pelican Lake's infestation has stayed limited, thinks, for the same reason.. DNR is more than willing to answer questions we have, but he cannot do face to face meetings. We can contact him by phone, email or Zoom
Tim Plude
Cell phone 218-368-9205
timothy.plude@state.mn.us
At the June 26, 2021 board meeting, the Horseshoe Lake Property Owners Association (HLPOA) unanimously voted to oppose the Hideaway Bay on Horseshoe Lake development (proposal number 2).  The board and the association members are concerned about the additional 14 residences proposed to be added on 2 "regular" Horseshoe Lake lake lots and the impact of the 10% increase in the number of homes and lake traffic on the EAST half of the lake. The increase in residences on Horseshoe Lake will cause many problems for this small recreational lake (RD Lakes require 160'per lot for development). 
The HLPOA and its members want the Hideaway Bay proposal denied for these reasons:
Mission Township's Comprehensive plan states in two separate citations that "Cluster Developments" and Conservation Subdivisions should NOT abut lakeshore and be limited to NON lakeshore parcels.
Horseshoe Lake requires that minimum lake shore frontage (unless Grandfathered in) of 150' for construction. In Hideaway Bay's proposal, that should be two building lots/homes, not 14 homes. The Developer is selling homes with access to the lake equal to 30' per residence, which violates current policy.
Horseshoe Lake has a much lower water acreage to lot's ratio because it is long and narrow and bisected by Huxtable Point which has cabins on both sides. The result is that the lake gets congested easily with boat traffic.
Horseshoe Lake: 888 acres/248 lots is 3.58Lake area per lot.
Mission Lakes: 1515 acres/213 lots is 7.11 lake area per lot (Twice Horseshoe Lake's lake area per lot)
Lake Edward: 2575 acres/280 lots is 9.20 lake area per lot (2.5 times Horseshoe Lake's lake area per lot)
North Long Lake: 5988 acres/571 lots is 10.79 lake area per lot (3.0 times Horseshoe Lake's lake area per lot)
Therefore, adding 14 additional users would only exacerbate the congestion problem. The developers are using lake access strictly to make a money grab at potential cost of Horseshoe Lake and its residents.
Safety – The safety of our adult and child boaters, skiers, tubers, paddle boarders, fisherman, etc. would be significantly compromised with the added Cluster Development. As mentioned above, Horseshoe Lake cannot handle that many more boats and keep safety a priority.
Shoreline erosion – the small size and shape of Horseshoe Lake is conducive to shoreline erosion with high boat traffic.
AIS Contamination – The weekend traffic on Horseshoe Lake is currently overcrowded. There is one public landing on Horseshoe Lake, which HLPOA spends thousands of dollars each year to double the AIS monitoring.  As a result, Horseshoe Lake is free of AIS including Zebra Mussels, and this effort would be significantly compromised with the added boat traffic due to the proposed development.  With more traffic at the landing, people will go earlier or later when the monitors are not there or worse, yet they will bypass the landing inspectors completely by launching at the Hideaway Bay location.  Again, Horseshoe Lake is clear of AIS and the HLPOA and its members are trying to keep it AIS free.
Significant amounts of forest will be destroyed in the development for storage facilities as well as the 14 homes. The contractor indicated his intention to "clear enough trees so the first layer of homes (257' from the highwater mark) will have a view of the lake".
If Hideaway Bay development is allowed, it will set a precedent; and other landowners could do similar developments and the lake will be severely compromised.
We strongly encourage the rejection of the Hideaway Bay development.
Robert P Saunders
President HLPOA
Dear HLPOA Members;
We discussed the "Hideaway Bay development" (proposal number 2) at our board meeting today and we passed the attached resolution. We also had Bill Brekken Crow Wing County Commissioner and Bob Steele and Jon Auge Mission Township Supervisors in attendance. All three support our position but explained it will be an uphill battle. We therefore need your help by sending an Email or letter:
                        Crow Wing Land Services
                        322 Laurel St  Suite  15
                        Brainerd MN 56401
In your email or letter as a minimum indicate that you support the Resolution passed by the board; but even better is to put in your own words why you believe the development is not in the best interest of Horseshoe Lake and Crow Wing County.  Your comments will go to the Zoning and Planning board. They will have an impact. You need to get the letter or email to the Land Services Office by the 8th of July to be included in the packet going to the board.
Thank you for your support!
Rob Saunders
President
HLPOA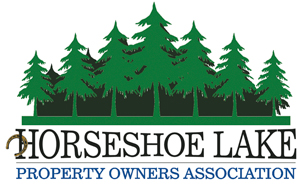 Show your support for HLPOA by displaying our  HLPOA signs.
Each sign is cost $20, with the cost covering the sign and remainder going to the Lake Protection Fund. If interested please email Pam Heller at pamheller24@gmail.com.
HLPOA DUES
The HLPOA is looking to update its membership addresses for the newsletter mailings and the membership information mailings. Membership information will ONLY be used internally. It will not be distributed, sold etc. To update your information, please send an email to: dave@horseshoelakemn.com or info@horseshoelakemn.com
 Ice Out History
2021-April 1-3 Both basins
2020–April 11 East Basin April 12 West Basin
2019 April 21 East Basin April 22 West Basin
2018-May 1 Both basins
2017–April 2-East Basin/April 3-West Basin
2016-March 29-East Basin/March 30-West Basin
2015—April 6-West Basin /April 7-East Basin
2014—April 27
2013—May 11
2012—March 22
2011—April 19
2010—April 1
Welcome to Horseshoe Lake, Merrifield MN
Horseshoe Lake info
Horseshoe Lake (formerly Sandbar) is an 888 acre lake located about 7 miles south of Crosslake, in Crow Wing County. It is bordered by Highway 3 and Pelican Lake to the west. East Horseshoe Lake Road borders the east, Mission Park Drive to the south, North Horseshoe Lake Road enters from the west (dead-ends) and Pine Cone Lane (also dead-ends) enters from the east to border the north end of the lake. Huxtable Point nearly divides the lakes in two. It has one public access located on the southeast side near Mission Park. The maximum depth is – approximately 55 feet, with about 59% of the lake averaging 15 feet deep. A majority of the home and cabin owners are members of the Horseshoe Lake Property Owner's Association (HLPOA).