Horseshoe Lake - Merrifield, MN
Drone Photos courtesy of Justin Peterson
Horseshoe Lake - Merrifield, MN
Drone Photos courtesy of Justin Peterson
Horseshoe Lake - Merrifield, MN
Drone Photos courtesy of Justin Peterson
Horseshoe Lake - Merrifield, MN
We had a wonderful turnout for the annual kids fishing contest.
Headlines / News on Horseshoe Lake, Merrifield MN:
do n 
HLPOA is looking for a new kids fishing tournament coordinator for Labor Day weekend on Horseshoe Lake! It's a great event and the kids enjoy doing it every year. Below are the listed requirements for coordinating the event:
Get awards prepared for kids – in the past we bought lures and bobbers for 

all 

participants (this is paid back from the Lake Association). We also printed 1st, 2nd, 3rd place certificates. 

Announce awards at the potluck.Ensure there are helpers on each basin to check boats in and measure the fish as well. In the past a family has helped on the west basin and two volunteers have been at the landing dock for the east basin.

 

Remain in contact with Nancy Jones, who creates the horseshoe lake newsletter. This will help to get the word out and for everyone to know starting times.

Contact the treasurer a few days before the contest to make sure you have money for the cash awards ($50 longest overall plus each category – northern, bass, sunny, crappie – 1st $20, 2nd $10, 3rd $5).

For the Potluck – located at mission park –provide setup and then everyone brings a dish and their own plates/silverware. There are big beverage coolers for water and lemonade owned by the association that the coordinator stores from year to year.
Overall time investment is modest. Any questions please reach out to Bob or Kim Kalton.
 HLPOA has had some communication issues in the past year as we try to transition to new mediums for communication with our membership.  One issue is we saw our membership dropped by over 45 members. With that result is we saw that many of our good and faithful members have not made their dues contributions for 2019-2020. Our assumption is our miscommunication caused many to not receive our statement. If you had not paid last years dues and If you do not see your name below we did not recieve a payment please contact:
Rob Saunders at robs.7680@gmail.com.
We apologize for any inconvenience this has caused you.
Below is our current membership as of March 30th.
Last Name
First
Last Name
First
 
Last Name
First
Ackert
Gary & Lynda
 
Iten
Tim & Cindy
 
Peterson
James & Susan
Anderson
Jessica
 
Jaeger
Todd & Victoria
 
Peterson
Keith & Mary Jane 
Baker
David & Pamela
 
Jezierski
Jill & Dennis
 
Pierre
Lou Ann
Berg
Julie
 
Johnson
Dales & Barbara
 
Quale
Jon & Rosalie
Betts
Russell & Patricia
 
Johnson
Richard & Pamela
 
Qualley
Pat & Jeanne
Betts
Thomas & Gretchen
 
Johnson
William & Geraldine
 
Ramler
Joann & March Williamson
Blasiak
Roger & Catherine
 
Johnson
Paul & Barbara
 
Reeves
Michael & Kathleen
Boeckmann
Chad & Kelli
 
Johnson
Paul & Barbara
 
Reiners
Nancy Louise Dahlbrg
Brodersen
Steven & Kathryn
 
Jones
Ronald & Nancy
 
Reko
Kenneth & Linda
Butorac
Joeseph
 
Jones
Brandon & Lana
 
Remy
Tracy
Buttweiler
John & Michele
 
Jorvig
Gregory & Kathleen
 
Rogosheske
Daniel & Laurie
Carder 
Eric
 
Junker
Gregory & Nancy
 
Roitenberg
Jason & Stacy
Chambers
Diane & Don Parsisson
 
Kalton
Bob
 
Rudnitski
Russell & Nancy
Collins
Richard(Pat) & Jeanne
 
Kiener
Donna
 
Russell/Hagen
Annette  & MK
Connelly
John & Kathleen
 
Kilness
Russ & Cathy
 
Sackett
Marlin & Gwendolyn
Connelly
Mary Lynn
 
Kirsch
Kyle & Kelly
 
Sandberg
Ramona
Conway
James & Linda
 
Kittok
Joan
 
Saunders
Rob & Renae
Couillard
Nancy & Terry
 
Kurowski
Clarence
 
Schmidt
David & Lucy
Crawford
Frederick & Priscella
 
Lahr
Curtis
 
Schroedl
Michael & Mary
Davis
Donald  Susan
 
Lallman
William & Janice
 
Schroeppel
John & Anne
Deis
Matthew & Judy
 
Landry
Family 
 
Schuck
Sue
Deyoe
Mary E
 
Laurence
Lois
 
Seeman
Dan & Cynthia
Dilorenzo
Cathleen
 
Leete
Jeanette
 
Shinofield
Richard & Linda
Dimler
Carole
 
Leland
Leonard & Susan
 
Siebert
Mary
Dodge
Anthony & Laura
 
Lewis
Christopher & Jan
 
Spear
William & Rachel
Dressler
Loren & Marcelle
 
Little
Wayne & Joan
 
Stack
Mark & Roxanne
Eisele
Greg & Sharon
 
Locketz
David & Deborah
 
Stans
Alan and RoseAnn
Feiro
Michael & Kristine
 
Lonnes
Bruce & Genelle 
 
Stans
Alan & Rose
Folsom
Greg & Muriel
 
Losey
Thomas & Carol
 
Starry
Wayne & Jennifer
Frandsen
Deanna
 
Ludwigson
Janet & John
 
Sundeen
Raymond & Diane
Fredricksen
Randal & Connie Nolen
 
Lunzer
Lawrence
 
Sykora
Richard & Carla
Geadelmann
Lynn
 
Magnuson
 
 
Timm
Kevin & Barbara
Geiger
Norm & Corrine
 
Mainquist
Phil & Beth Mainquist
 
Triplett
Bruce & Carol
Glas
Donald & Jacqueline
 
Martin
Jerry & Linda
 
Tschann
Brian & Mindy
Glas
William R
 
Mateyka
James & Tana
 
VanHeel
Glenn & Jill
Goplen
David
 
Mateyka
John & March
 
Vendrzyk
Nancy
Gross
Jim & Bonnie
 
Mayavski
Lee & Sandra
 
Wagner
Frances
Gunsbury
Curt & Catherine
 
McCormick
Patricia
 
Washburn
Richard & Joann
Gutknecht
Scott & Joni
 
McCormick 
Incl in 2018/2019
 
Weihs
William & Teresa
Hansen
Richard & Janyce
 
Meinz
Thomas & Charlotte
 
Wiczek
Diane
Hanson
Jon & Kristine
 
Melde
Stephen & Linda
 
Wiener
Christopher & Diane
Havir
Terry & Kristine
 
Moores
William & Marjorie
 
Hays
James & Darlene
 
Morgan
Dennis & Debra
 
Heller
Richard & Pamela
 
Moyer
Linda & Leland
 
Herker
Christopher & Kerry
 
Oksnevad
Haakon & Jane
 
Heun
Paul & Heidi
 
Oliverius
Richard & Julie
 
Howe
Wayne & Geraldine
 
Olsen
Allen & Nancy
 
Hunerberg
John & CH
 
Olsen
Allen & Nancy
 
Hupe
Claude & Kathryn
 
Olson
Steve & Shirley
 
Hupf
Patrick & Cindy
 
Owens
Jerry & Norma
 
The HLPOA is looking to update its membership addresses for the newsletter mailings and the membership information mailings. Membership information will ONLY be used internally. It will not be distributed, sold etc. To update your information, please send an email to: dave@horseshoelakemn.com
Show your support for HLPOA by displaying our new HLPOA signs.
Each sign is cost $20, with the cost covering the sign and remainder going to the Lake Protection Fund. If interested please email Pam Heller at pamheller24@gmail.com.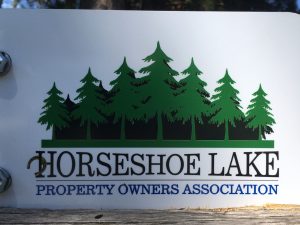 *At a recent Mission Township meeting, the Mission Fire Department was upgrade from a 7 to6! (lower number is better) check with your Home insurance agency to see if you receive a discount due to this. They can contact the Mission Fire department directly.
2020–April 11 East Basin April 12 West Basin
2019 April 21 East Basin April 22 West Basin
2018-May 1 Both basins
2017–April 2-East Basin/April 3-West Basin 2016-March 29-East Basin/March 30-West Basin 2015—April 6-West Basin /April 7-East Basin 2014—April 27 2013—May 11 2012—March 22 2011—April 19 2010—April 1
Welcome to Horseshoe Lake, Merrifield MN
Horseshoe Lake info
Horseshoe Lake (formerly Sandbar) is an 888 acre lake located about 7 miles south of Crosslake, in Crow Wing County. It is bordered by Highway 3 and Pelican Lake to the west. East Horseshoe Lake Road borders the east, Mission Park Drive to the south, North Horseshoe Lake Road enters from the west (dead-ends) and Pine Cone Lane (also dead-ends) enters from the east to border the north end of the lake. Huxtable Point nearly divides the lakes in two. It has one public access located on the southeast side near Mission Park. The maximum depth is – approximately 55 feet, with about 59% of the lake averaging 15 feet deep. A majority of the home and cabin owners are members of the Horseshoe Lake Property Owner's Association (HLPOA).