Horseshoe Lake - Merrifield, MN
Drone Photos courtesy of Justin Peterson
Horseshoe Lake - Merrifield, MN
Drone Photos courtesy of Justin Peterson
Horseshoe Lake - Merrifield, MN
Drone Photos courtesy of Justin Peterson
Horseshoe Lake - Merrifield, MN
We had a wonderful turnout for the annual kids fishing contest.
Headlines / News on Horseshoe Lake, Merrifield MN:
The meeting Thursday should only be for those invited. Mission Township and HLPOA are representing their respective groups.
Technically you are trespassing if you go uninvited.
Let's not create a bad situation and let our representatives deal with that meeting. We will update members as information is provided.
Thank you!
NOTICE
Re:  Preliminary Plat – HIDEAWAY BAY AT HORSESHOE LAKE
 Owner/Applicant: John A Yngve Rev Trust AGR 8-28-08  (recently purchased by Tracts LLC)
 Authorized Agent:  Tracts LLC / Paul Herkenhoff – Lakes Area Surveying
 Property ID #77200609
 Location:  14331 Thistle Trail, Merrifield, MN  56465; Located on the North 200 feet of the South 600 feet of Government Lot 2 in Section 20, Township 136, Range 27; Mission Township, Crow Wing County, Minnesota
 The request is to review the proposal for a Preliminary Plat of "The Hideaway at Horseshoe Lake": Fifteen (15) total lots consisting of:
– Thirteen (13) individual lots for residential dwellings
– Two (2) Common Lots
 A hard copy of this information is available at the Land Services Office. If you would like to review a hard copy of this information, please let us know and a copy will be mailed to you.
 Attached for your review is a copy of the preliminary plat information.  This property is scheduled for consideration by the Planning Commission at their Meeting on Thursday, May 20, 2021.  The Crow Wing County Land Use Ordinance allows a 30-day review process for all agencies involved. We would sincerely appreciate your prompt review of the proposal.  If you do have any comments, please submit them by Thursday, May 13, 2021, so that they will be included in the published online packet of information.
 If you have any questions or if you need additional information, please feel free to contact this Office.
Sincerely,
Kirstin Lindbery
Land Services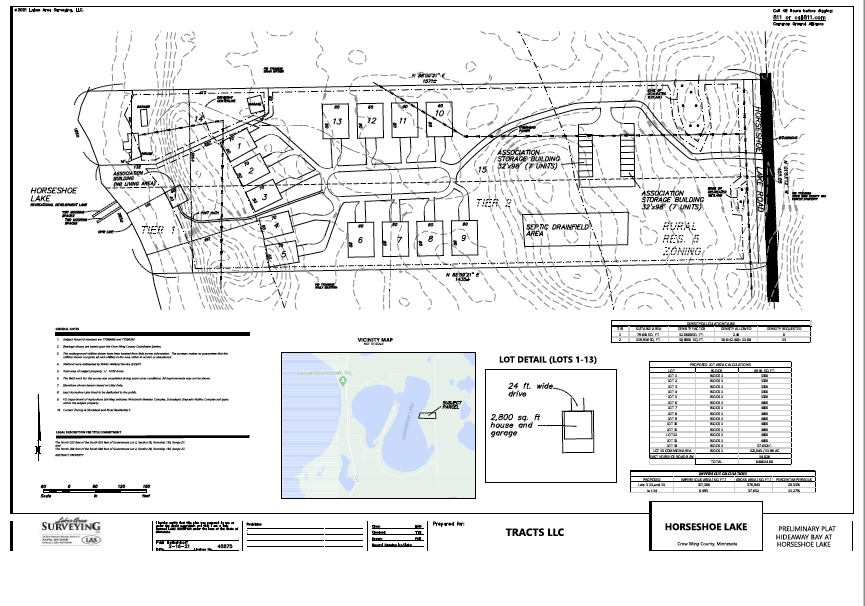 We the undersigned residents of Horseshoe Lake and its affiliated Lake association HLPOA located in Mission Township Minnesota endorse the HLPOA boards opposition to the Hideaway Bay Development as stated below:
The board of Horseshoe Lake Property Owners Association (HLPOA) at their board meeting on May 1, 2021 unanimously voted to oppose the Hideaway Bay on Horseshoe Lake development. It is the belief of the board and many of its Association members that the additional 14 residences on the lake will increase the homes and traffic on the EAST half of the lake by almost 10%. That increase in residences on the lake causes many problems for a small recreational Lake. The traffic on the lake on weekends can currently be overcrowded. The landing which HLPOA spends thousands each year to double the amount of AIS monitoring would be much more crowded and would increase the hours needed to monitor additional boat traffic. This could be adverse in a couple ways:
1.With more traffic at the landing people will go earlier or later when the monitors are not there or worse, yet they will bypass the landing inspectors completely by launching at the Hideaway bay location.
This lake requires that minimum lake shore frontage (unless Grandfathered in) of 160' of lake shore for construction. In Hideaway bay's situation that would be two building lots not 14.
Horseshoe lake has a much higher Shoreline to water acres than most lakes because it is long and narrow. The result is that the lake gets congested easily with boat traffic. Therefore, adding 13 additional users would only exacerbate the problem.
4.If this Development is allowed, it will set a precedent; and other landowners could do similar developments and the lake will be over crowed and most likely be infested with AIS.
5.The lake is clear of AIS and HLPOA and its members are trying to keep it AIS free. This project will only make it more difficult to maintain that goal.
We strongly encourage the township board oppose the Hideaway Bay development.
Robert P Saunders
President HLPOA
Township meeting is May 3, 7pm.
check Mission Township for zoom info Monday.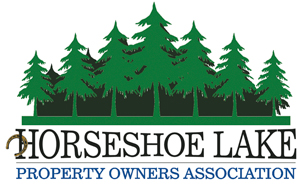 Show your support for HLPOA by displaying our new HLPOA signs.
Each sign is cost $20, with the cost covering the sign and remainder going to the Lake Protection Fund. If interested please email Pam Heller at pamheller24@gmail.com.
The HLPOA is looking to update its membership addresses for the newsletter mailings and the membership information mailings. Membership information will ONLY be used internally. It will not be distributed, sold etc. To update your information, please send an email to: dave@horseshoelakemn.com opr info@horseshoelakemn.com
 Ice Out History
2021-April 1-3 both basins
2020–April 11 East Basin April 12 West Basin
2019 April 21 East Basin April 22 West Basin
2018-May 1 Both basins
2017–April 2-East Basin/April 3-West Basin
2016-March 29-East Basin/March 30-West Basin
2015—April 6-West Basin /April 7-East Basin
2014—April 27
2013—May 11
2012—March 22
2011—April 19
2010—April 1
Welcome to Horseshoe Lake, Merrifield MN
Horseshoe Lake info
Horseshoe Lake (formerly Sandbar) is an 888 acre lake located about 7 miles south of Crosslake, in Crow Wing County. It is bordered by Highway 3 and Pelican Lake to the west. East Horseshoe Lake Road borders the east, Mission Park Drive to the south, North Horseshoe Lake Road enters from the west (dead-ends) and Pine Cone Lane (also dead-ends) enters from the east to border the north end of the lake. Huxtable Point nearly divides the lakes in two. It has one public access located on the southeast side near Mission Park. The maximum depth is – approximately 55 feet, with about 59% of the lake averaging 15 feet deep. A majority of the home and cabin owners are members of the Horseshoe Lake Property Owner's Association (HLPOA).