Horseshoe Lake - Merrifield, MN
Drone Photos courtesy of Justin Peterson
Horseshoe Lake - Merrifield, MN
Drone Photos courtesy of Justin Peterson
Horseshoe Lake - Merrifield, MN
Drone Photos courtesy of Justin Peterson
Horseshoe Lake - Merrifield, MN
We had a wonderful turnout for the annual kids fishing contest.
Headlines / News on Horseshoe Lake, Merrifield MN:
2018 Horseshoe Lake Property Owners Association Meeting.
A wonderful turn out of 60 area members. New board members elected, plus various reports from committees.
Special thanks to retiring board members, Past President- Bob Kalton, Bud Hays, Dale Johnson and Pat McCormick.
New board members for the 2018-2019 Season are:
Dave Baker -President
Rob Saunders-Vice President
 Sue Peterson-Secretary
Michelle-Buttweiller-Treasurer
Kevin Max-Fisheries
Directors:

Jim Peterson
Pam Heller
Kathy Lee
Teresa Weihs
Chad Boeckmann
John Buttweiller
Boat parade winner-Trenary family present by parade chair Sue Peterson
The HLPOA is looking to update its membership addresses for the newsletter mailings and the membership information mailings. Membership information will ONLY be used internally. It will not be distributed, sold etc. To update your information, please send an email to: dave@horseshoelakemn.com
Show your support for HLPOA by displaying our new HLPOA signs.
Each sign is cost $20, with the cost covering the sign and remainder going to the Lake Protection Fund. If interested please email Pam Heller at pamheller24@gmail.com.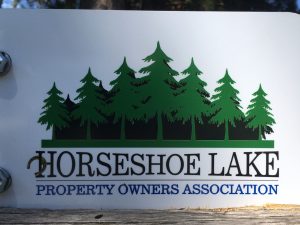 *At a recent Mission Township meeting, the Mission Fire Department was upgrade from a 7 to6! (lower number is better) check with your Home insurance agency to see if you receive a discount due to this. They can contact the Mission Fire department directly.
Ice went out May 1 on both basins!
2017–April 2-East Basin/April 3-West Basin
2016–March 29-East Basin/March 30-West Basin
2015—April 6-West Basin /April 7-East Basin
2014—April 27
2013—May 11
2012—March 22
2011—April 19
2010—April 1
**HLPOA now has a Facebook Page!
It is a closed group, meaning if you or family members are paid members of HLPOA, please request to join the group. Hopefully this will lead to an additional source of updating members of the Lake events. This is not a place for political statements and views, advertising, or other issues non related to Horseshoe Lake and the Association. Violation of this will result in removal from the group.
To join go on Facebook to: https://www.facebook.com/groups/348693808894567/
Please remind visitors with boats and wave runners NO WAKE zone through the channel. Though high water in the channel  Wakes tend to increase the fill. We don't want to dredge it again.
Minnesota Personal Watercraft Laws https://files.dnr.state.mn.us/education_safety/safety/boatwater/pwc-brochure.pdf
Minnesota DEPARTMENT OF NATURAL RESOURCES
You Must… Wear a USCG approved life jacket. Travel at slow-no wake speed (5 mph or less) within 150 feet of: non-motor- ized boats, shore (unless launching or landing skiers directly to or from open water), docks, swim rafts, swimmers or any moored or anchored boat. Operate only from 9:30 a.m. to 1 hour before sunset. Use the cutoff lanyard properly. Obey operator age/permit laws for those younger than 18 years old. see below:
Less than 13 years old-May not operate, even  with an adult on board.
13 years old – Must either have: someone at least 21 on board, or a watercraft operator's permit and be in continuous visual observation by someone at least 21.
14-17 years Must either have or hold a watercraft operator's permit, or someone at least 21 on board.
You May Not… Chase or harass wildlife. Jump the wake of another boat within 150 feet of the craft. Operate a personal watercraft in a manner that endangers life, limb or property.
Thanks To All That Participated In The 2018 Boat Parade
This years winners are: 
1st place Wild for Freedom Trenary Boat, 2nd Place Magical-Mainquist Boat, 3rd Place Batman Super Heroes.
Thanks to Dave Baker this year's Commodore for leading the parade. To see  all boats we have a link is below-didn't see a photo of your boat?
Send photos to: info@Horseshoelakemn.com | https://www.horseshoelakemn.com/2018-boat-parade/
Horseshoe Lake Annual Kids Fishing Contest
We had a wonderful turnout for the Annual Kids Fishing contest. A link to all photos is below. 
Some of the award winners Biggest fish, Sunnies, participants.
Thanks to Kim Kalton, father Bob, the Heller's, Bud Hayes and Kevin Max for their organization in putting together another successful event.
All photos at: https://www.horseshoelakemn.com/2018-kids-fishing-contest-photos/
Welcome to Horseshoe Lake, Merrifield MN
Horseshoe Lake info
Horseshoe Lake (formerly Sandbar) is an 888 acre lake located about 7 miles south of Crosslake, in Crow Wing County. It is bordered by Highway 3 and Pelican Lake to the west. East Horseshoe Lake Road borders the east, Mission Park Drive to the south, North Horseshoe Lake Road enters from the west (dead-ends) and Pine Cone Lane (also dead-ends) enters from the east to border the north end of the lake. Huxtable Point nearly divides the lakes in two.
It has one public access located on the southeast side near Mission Park. The maximum depth is – approximately 55 feet, with about 59% of the lake averaging 15 feet deep.
A majority of the home and cabin owners are members of the Horseshoe Lake Property Owner's Association (HLPOA).