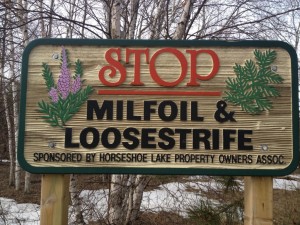 Horseshoe Lake Property Owners Association qualified for 200 hours of AIS Inspectors time for 2017! We will plan to add 200 more hours for the year. We will have inspectors working at the boast launch hopefully all weekends and prior to major Holidays from early May to October.
In the past tears, HLPOA has had sponsors to help off set inspector costs.
Are you interested in helping to protect our lake? Find out how you can make an impact below.
Looking to help off set our inspections costs? Become a donor and we will acknowledge you in our newsletter, website and annual meeting. Half day sponsor = $50; One day sponsor = $100; Weekend sponsor = $200.
Make checks payable to: HLPOA
Indicate in memo of check; write: "Protection"
Mail to: HLPOA Box 86 Merrifield, MN. 56465
Your contributions are greatly appreciated! We all THANK YOU!
Purple Loosestrife has been found in our lake.
http://www.dnr.state.mn.us/invasives/aquaticplants/purpleloosestrife/index.html
2016 new report!