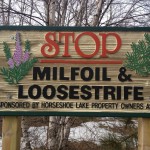 Horseshoe Lake AIS inspections usually occur on major holidays and weekends mid May thru September. We usually qualify for 200-300 hours, paid by Crow Wing County. Additionally we add 200 hours paid for by the HLPOA water protection fund. (approx $900-$2000) Lack of inspectors was a challenge in 2022.  If interested in being a paid inspector, please reach out to: info@horseslakemn.com.
Looking to help offset our inspections costs? Become a donor and we will acknowledge you in our newsletter, website and annual meeting. Half day sponsor = $50; One day sponsor = $100; Weekend sponsor = $200.
Make checks payable to: HLPOA
Indicate in memo of check; write: "Protection"
Mail to: HLPOA Box 86 Merrifield, MN. 56465
Your contributions are greatly appreciated! We all THANK YOU!
Purple Loosestrife  and relatively small amount of zebra mussels has been found in our lake.
http://www.dnr.state.mn.us/invasives/aquaticplants/purpleloosestrife/index.html
Water quality has been constantly positive over the years in terms of clarity etc. See report below. We have it test annually.