Horseshoe Lake
Merrifield MN
Horseshoe Lake
Merrifield MN
Horseshoe Lake
Merrifield MN
Headlines / News on Horseshoe Lake, Merrifield MN:
Drone Photos courtesy of Justin Peterson
**The Horseshoe Lake Memorabilia online store is currently open NOW**
It will close at the end of the day on Monday, April 23rd – by closing the online store on April 23rd the ordered items will be delivered on or before Memorial Day weekend so we can enjoy our new items for summer. We also want to remind you that it will be two years before the online store is open again – so it will open again in 2020. Make sure you don't miss your opportunity to place an order now.
Remember orders must be received by April 23rd. Click below for details.
**HLPOA now has a Facebook Page! It is a closed group, meaning if you or family members are paid members of HLPOA, please request to join the group. Hopefully this will lead to an additional source of updating members of the Lake events. This is not a place for political statements and views, advertising, or other issues non related to Horseshoe Lake and the Association. Violation of this will result in removal from the group. To join go on Facebook to:/https://www.facebook.com/groups/348693808894567/
When is the ice going out!? A little history from the past.
2017–April 2-East Basin/April 3-West Basin
2016–March 29-East Basin/March 30-West Basin
2015—April 6-West Basin /April 7-East Basin
2014—April 27
2013—May 11
2012—March  22
2011—April 19
2010—April 1
**For CTC members. Horseshoe Lake resident Dave Baker is running for CTC Board of Directors against incumbent Kirk Smith of Outing. Ballots will be sent to members in May. Click below for candidate bios.
Show your support for HLPOA by displaying our new HLPOA signs. Each sign is cost $20, with the cost covering the sign and remainder going to the Lake Protection Fund. If interested please email Pam Heller at pamheller24@gmail.com.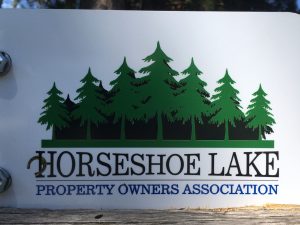 *At a recent Mission Township meeting, the Mission Fire Department was upgrade from a 7 to6! (lower number is better) check with your Home insurance agency to see if you receive a discount due to this. They can contact the Mission Fire department directly.
*Kids 2017 fishing contest winners and photos.
 HLPOA Annual Meeting
HLPOA Treasurer Rob Saunders Report           Crosslake Police Chief Erik Lee update              Mission Fire Chief Randy Roach update
Horseshoe Lake 2017 Boat Parade Winner!
The Tom and Cammie Lawrence 's Pirate Ship established a new level of boat parade winners with their entry!
2nd place went to the Lokensgard family's Super Heroes theme. "It was a wonderful turnout!" Thanks to Commodore Tom Losey who lead the parade.
Some other great decorated boats!.
Note! The week of 6/6 West Basin has seen boat vandalism. Batteries and gas cans taken from boats. Secure all items and report any suspicious activity to Sheriff or Crosslake Police. Appears the vandals are in boats.
SPECIAL NOTE: The recycling bins behind Mission Town Hall are for recycling, paper, tin, aluminum cans, newspaper, oil, and plastic, IT IS NOT a place to dump furniture, box springs, or mattresses. Doing so will result in a fine. Cameras monitor this. Also, if this continues we will lose the recycling opportunities. These types of items must be taken to Crow Wing County dumps.
Note! Bears have been spotted along East Horseshoe Lake Road  the week of 6/6. Assumption due to logging in state forest it is driving them out. Contain garbage and be aware. Large bear sighting along North Horseshoe Lake road. Eating from bird feeders, contain your garbage. (4/18-19)
The DNR did their fish population survey the week of August 8th, 2016.The survey consists of them putting in 12 large gill nets and 12 trap nets, and subsequently pulling the nets and counting, weighing and measuring the different species of fish.
2016 Water Quality report click below:
Transfer station opened Saturdays from 10a-2p. Last date open October 28th.
Most current HLPOA information in Spring Newsletter. See link at bottom of page.
2016 Fishing contest winners! We had a great turn out and some prizes for everyone one….. see Gallery or click link below.
Purple Loose Leaf has been found on our lake. It is easy to see now as it has purple flowers. It is an Invasive species but can be controlled by pulling it before it goes to seed. If you see it on the lake please contact someone on the board. see link below for helping you identifying it.
      http://www.horseshoelakemn.com/purple-loosestrife
http://www.dnr.state.mn.us/invasives/aquaticplants/purpleloosestrife/index.html
Remember to pay dues. All those who have not sent in their dues to please send them to:
                  HLPOA Box 86 Merrifield, MN. 56465
Strong wind storm early morning Thursday July 21st causes damage, loss of power for most of lake residents for close to 24 hours. Strong winds from Northwest to Southeast uprooted trees, knocked docks apart, ripped lift canopies and cause some serious home damage. To see storm photos go to Gallery 
4th of July 2016-Some of the best weather of the summer welcomed us to the 4th of July Holiday. The annual 4th of July boat parade included 19 boats!! Thanks to Jerry Martin for being the commodore! Boats went from the east basis to west this year. The east basin Gibas boat, with the Horseshoe Olympic theme, took the trophy home. Thanks for all those who participated! See some of the decorated boats gallery page. We also had the Mission parade photos . Special thanks to Sally Mainquist for providing the photos!
Remember the channel is a " No Wake Zone" We don't want to dredge it again. Please remind your guests and help us enforce it.
A black bear has been seen around the lake. Contain your garbage!
                                                     Thanks for keeping our lake Safe and Clean!-HLPOA
Welcome to Horseshoe Lake, Merrifield MN
Drone Photos courtesy of Justin Peterson
Horseshoe Lake info
Horseshoe Lake (formerly Sandbar) is an 888 acre lake located about 7 miles south of Crosslake, in Crow Wing County. It is bordered by Highway 3 and Pelican Lake to the west. East Horseshoe Lake Road borders the east, Mission Park Drive to the south, North Horseshoe Lake Road enters from the west (dead-ends) and Pine Cone Lane (also dead-ends) enters from the east to border the north end of the lake. Huxtable Point nearly divides the lakes in two.
It has one public access located on the southeast side near Mission Park. The maximum depth is – approximately 55 feet, with about 59% of the lake averaging 15 feet deep.
A majority of the home and cabin owners are members of the Horseshoe Lake Property Owner's Association (HLPOA).